Make way for fun and well-being!
Your cat is full of energy and has a daily need to exercise . Give him all the comfort he needs for an optimal feeling of happiness .

the new innovative toy that will keep your cat entertained throughout the day.
Its ergonomic design has been designed for the comfort and well-being of your companion by offering him a feeling of relaxation and freedom .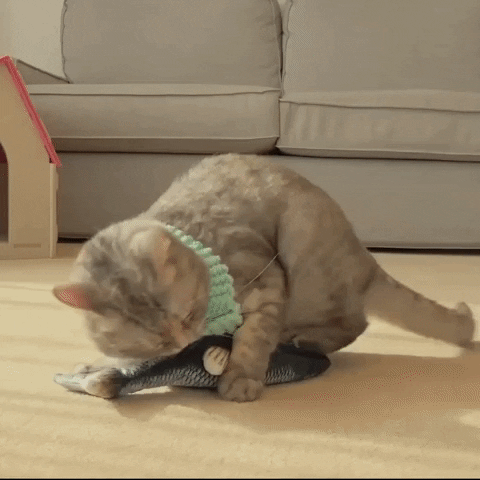 Discover the many advantages of Alexo ™:
Reduces anxiety : calms, soothes, and relieves any feeling of stress.
Stimulates curiosity : it entertains your cat all day long, thus promoting optimal development of all its senses.
Develop its natural instincts

 
: 
the realistic movements of the fish will encourage your cat to awaken its independent character.
Limits the risks of diseases such as diabetes, osteoarthritis or lipidosis ... Inactivity and apathy are factors that present an increased risk of disease in cats.
Innovative ergonomic concept : designed to adapt to all cats, from the youngest to the oldest.
100% natural and durable : made from high quality fabric, soft and resistant.
Our fish is not an 
electronic 
toy 
and does not require the use of batteries.
Our guarantee:
The rigor of our specifications commits us to offer you high quality products and assistance . At Rixtal, we ensure the satisfaction and happiness of our customers, which is why all our products are 100% satisfied or reimbursed .
Anxious to offer you a most pleasant experience in our company, we do everything in our power to best meet your expectations. For this, you can consult our FAQ at any time if you have any questions. In addition, our team is at your disposal 24/7 to support you and provide you with information.